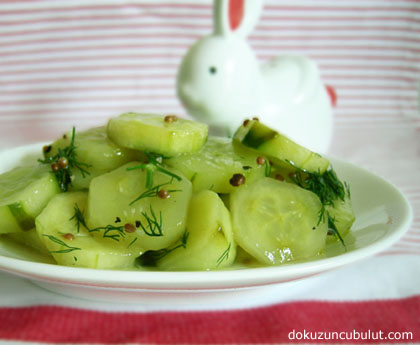 Here I'm presenting you a very practical recipe for dill pickles. It has a fantastic taste and texture and is not very salty; you can make it in 10 minutes in the morning and enjoy it for dinner in the evening.
Ingredients:
2 medium cucumbers

5-6 dill sprigs

1/2 cup vinegar

1/2 cup olive oil

1 teaspoon coriander seeds

2-3 cloves of garlic

Salt and pepper
Directions:
Peel the cucumbers and cut into slices. Add a tablespoon of olive oil into a non stick skillet, sauté the cucumbers for 2 minutes. Set them aside to cool.

In glass bowl, mix all ingredients and add cucumbers. Stir them. Wrap tightly with plastic wrap and refrigerate until ready to eat. Enjoy!
You might also like: