Ingredients:

500 g jerusalem

2 carrots

1 onion

1 small coffee cup rice

2 orange's juice

1 lemon's juice

some dill

salt, granulated sugar and olive oil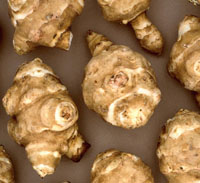 Directions:
Paring jerusalems, put into water with lemon for not lour.

Slice onion and carrots into cub shape and put into olive oil.

Add rice and jerusalems.

Add orange and lemon juice, salt and sugar. Heat it slowly. İf necessary add some water.

Finally at the end pan olive oil and dills.
You might also like: