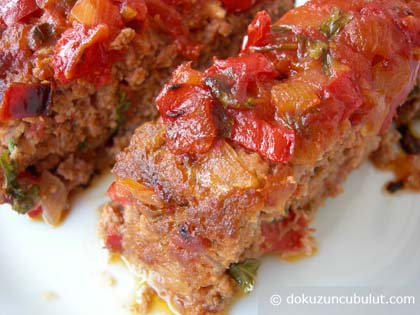 Ingredients:
For tomato sauce;
2 onion

2 red meaty pepper

2 tomato

1 bayleaf

8-10 parsley
For Meatball;
600 gram ground meat (both veal and lamb)

1 slice bread

1 egg

2 milled garlic

Salt, pepper, thyme

½ water glass of ketchup

3 tablespoon tomato sauce (prepared from recipe)
Directions:
First prepare the sauce. (Because it will use in meatball)

Carve all the sauce ingredients cube shaped

Add onions, after pepper and finally tomato and bayleaf above vegetables then saute them. Add salt and black pepper and cook quite.

Pick up sauce and add parsley and ketchup.

Seperate the meatball's sauce and save rest of the portion for set above the meatball

Stir all ingredients fort he meatball and impaste. Lay prepared combination into pan which oiled and fill with oiled folio.
You might also like: