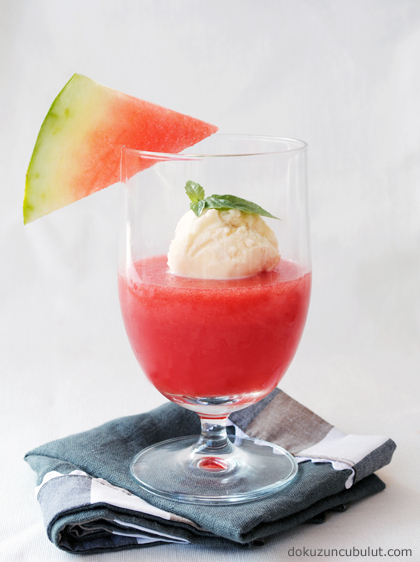 Here, I am sharing an easy and delicious dessert with my favorite summer fruit, the watermelon. This dessert can be served with ice cream.
Ingredients:
3 leaves of gelatine

600 ml watermelon juice

2 tablespoon lemon juice

1 tablespoon sugar (you can increase or decrease based on the watermelon's sweetness)

100 ml water
Directions:
Simple Syrup; Add sugar and water into a sauce pan. Cook over high heat, until the sugar has melted, once melted, reduce the heat and cook for 2-3 minutes.

Remove the watermelon seeds and puree it in the food processor.

Soften gelatine in ¼ cup of water and keep for 5 minutes, remove the excess water and mix with the simple syrup.

In a glass bowl mix the watermelon juice, lemon juice and simple syrup mixture. Divide amongst the serving cups or ramekins.

Serve with a small piece of watermelon or ice cream. Enjoy!